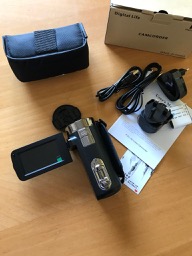 Normalerweise nehmen wir zu Konzerten und Festivals nicht unsere teuren Smartphones mit. Man hat ja doch Angst vor Verlust etc. Weil man dann aber doch mal ein Video aufnehmen möchte, was das "Festivalhandy" nicht kann, habe ich beim l...
Great quality, heavy and sturdy mount fit. It takes little time to set up and fit it on the wall, but its worth. Very happy and highly recommend!
Endlich mal ein Kabel das gefühlt nicht kaputt zu bekommen ist. Die Verarbeitung sieht klasse und edel aus. Es riecht nicht wie ein 0815 Kabel. Die Ummantelt schütz das Ladekabel auch gut vor Schmutz und Dreck bzw dieser lässt sich...
The headphones tick all the boxs for listening to music and when on a phone calling I highly recommend this item.
Who doesn't love a selfie on their phone !! I have three children and they are always wanting photos taken but its always so hard to get us all in the photo, but with the selfie stick i can fit everyone in the photo and take the perfect picture....